Posted on 06. Mar, 2012 by Elements in News
Producer & Co-Founder of Ele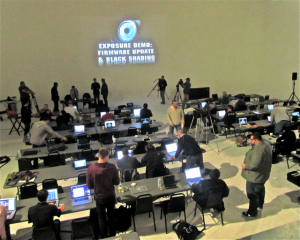 ments Cine Productions, Chaker Ben Yahmed is in Hollywood, Los Angeles where he has been taking part in the week-long REDucation programme.
Chaker's experience as a Director of Photography both in the Gulf region & his homeland Tunisia for the past 10 years felt at home at the Red Studios where he was able to get his hands on the Red Epic, Scarlet & Red One.
"Being here at Red Studios in Hollywood has been such a refreshing experience for me" He said on a Skype call from LA "I was able to get intimate with the different cameras as well as getting familiar with the more fiddly aspects of a RAW workflow."
In addition to plenty of filming time, Chaker was able to view his shot 4K footage and discuss best possible scenarios with instructors.
He added "It's one thing working with the RED camera as we have in the past, it's another having detailed knowledge of this powerful tool and preparing your self for the future of film."
Elements is expecting shipment of it's new RED scarlet over the coming weeks in a bid to bring 4K capabilities to the Kingdom. It's post-production facility already hosts a full 2K workflow which will be upgraded to be able to handle 4K over the next few months.