Posted on 23. Apr, 2012 by Elements in News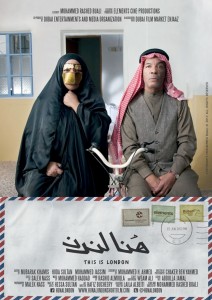 It's been a busy couple of months for Elements on the film front – as we took part in the 5th Annual Gulf Film Festival in Dubai with 4 films: Mohammed Janahi's Documentary "Goli Ya Helou", Mohammed R. BuAli's new film "Huna London" & "Under the Sky" & Saleh Nass's "Game" – the latter two created under the supervision of world-renowned Director Abbas Kiarostami.
The week ended with Huna London receiving the 3rd prize at the Official Gulf Shorts Competition.
Huna London was produced entirely at Elements Cine Productions in association with Mohammed R. Buali and Dubai's Enjaaz. Saleh Nass & Chaker Ben Yahmed acted as Executive Producers – and on a technical capacity served as Editor & Director of Photography on the picture respectively.
It was the first picture to be filmed in Bahrain using Silicon Imaging's Si-2K camera (of Slumdog Millionaire fame) and a full 2K workflow was utilised throughout post-production.
Elements Cine Productions has plans to continue expanding production of films during 2012 & 2013 and is upgrading it's facilities to match the 4K workflow currently required by digital cinema.
Huna London will next be screened at a major film festival at the end of the year – to be announced soon!
Click to View the Huna London Trailer