Posted on 09. Aug, 2012 in News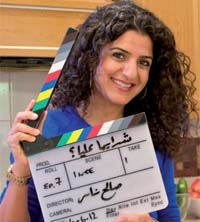 By Mai Al Khatib
Article courtesy of Gulf Weekly » August 8 – 14, 2012 (Volume:10 / Issue 84)
Nutrition guru Alia Almoayed hopes a series of instant sound bites on TV and online will help reduce the bulging belts of Bahrain's growing number of overweight adults and children.
She is focusing on sending a healthy Ramadan message with her unique lifestyle show which, if it attracts enough attention and following, will become a staple ingredient of regional channels.
In hard-hitting two-minute segments broadcast on Bahrain TV (btv) host Alia is tackling a range of health issues as well as promoting fitness and well being.
The show entitled Shrayha Alia? – which translates in English to What Does Alia Think? – currently delivers quick and easy to implement health tips to the busy every-day individual during the holy month.
The Arabic programme, subtitled in English, also touches upon a number of topics and questions asked during Ramadan including the benefits of fasting, exercise and sensible eating during iftar.
The 35-year-old mother-of-three, from Hamala, said: "I feel that health information is too confusing and too much of a hassle to acquire, especially in the fast-paced lifestyles we endure today.
"So, I wanted to deliver easy information to people and advise them what is 'doable'. It saves people having to look up the information in books or online and saves them from getting confused by conflicting statements which are out there.
"This show gives the viewer exactly what they need to know, minus the fluff, in just under two minutes.
"It seems short, but it works! Each episode gives the information and the action needed to live a healthier lifestyle. It's that simple."
Alia came up with the idea of the show after noticing the short-attention spans that people have developed, which she believes is a result of the increased use of social media such as Facebook, Twitter and Blackberry Messenger.
She explained: "People no longer appear to have the patience or time to watch an hour-long educational programme.
"So, I pitched the idea to my producer Saleh Nass of Elements Productions and realised that he had the same idea and was just about to pitch it to me!
"We were both passionate about the topic and believed it could work. The aim was to get people in the region healthier as quickly as possible.
"We have started with a Ramadan series with the hope of continuing with health tips throughout the year.
"It is done in Arabic because I feel that's where health information is mostly lacking. However, all episodes have English subtitles as well.
"I've poured all my Ramadan advice into the current episodes. The fasting experience becomes much more pleasant once people get the advice and implement it."
Concerns over fasting during Ramadan has grown in recent years after studies revealed that some people put on weight by over-indulging during iftar on unsuitable fatty foods.
The show is being aired twice-a-day on BTV at 4.15pm and 8pm. It is also available online at www.shrayhaalia.com
Alia is now working on getting the programme picked up by a major network to continue throughout the year and to expand the discussion over a variety of health issues.
"We are currently looking for a TV network to adopt the show so that we can keep it going," she said. "And, at the end of the day, our main objective is to deliver a healthy lifestyle message to as many people as possible.
"Not everyone can afford a private consultation with a nutritionist, but most people have TV and or internet access. This way we can also reach people from anywhere in the world.
"We are also going to expand the show to cover all health topics including weight loss, pregnancy, breastfeeding, parenting, beauty and much more.
"The biggest health hazard is being in denial that our health needs attention. People seem to turn a blind eye to their daily symptoms including headaches, fatigue, lethargy, skin problems and digestive discomfort, until it becomes a bigger health problem.
"Health is in the daily decisions that we make."
Former GulfWeekly health columnist Alia is known for running a successful nutrition consultancy business, hosting TV and radio programmes, holding lectures and seminars and leading a number of weight loss projects.
She is also the author of I Want Healthy Kids, a book on how to raise children, The Dream Body Eating Plan, a weight loss guide, and I Want a Healthy Pregnancy, a book on how to enjoy natural pregnancy and childbirth.
She is also co-author of 101 Ways to Improve Your Health and hosts Dare to be Healthy, a weekly live internet radio show on www.AliaAlmoayedRadio.com
She also finds the time to run an active blog on www.AliaAlmoayedBlog.com