Posted on 10. Nov, 2010 in News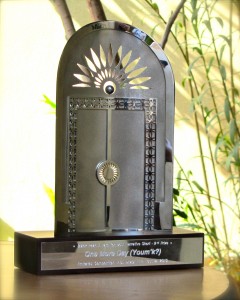 Best Narrative Short – 2nd Prize: One More Day (Chaker Ben Yahmed, Tunisia/Bahrain)
From ADFF:
The Abu Dhabi Film Festival presented Black Pearl Awards for its two competition categories featuring short films: the internationally selected Shorts Competition, and the Emirates Competition, which is made up of short films from the UAE as well as the other GCC nations.
The awards ceremony was held at the Emirates Palace, and was presided over by Eissa Saif Rashed Al Mazrouei, Director of Special Projects for the Abu Dhabi Authority for Culture and Heritage, and Peter Scarlet, Executive Director of ADFF. Also in attendance were Ali Al-Jabri, Director of the Emirates Competition and Alice Kharoubi, ADFF Shorts Programmer.
It was a significant event for ADFF, as it was the first time the Emirates Competition has been a full part of the Festival's competition. The Black Pearl Awards in the Shorts category are also an important touchstone for up-and-coming filmmakers.
Nouri Bouzid, President of the Emirates Competition Jury, and jurors Kasim Abid, Abdullah Hassan Ahmed, Ahmed Salmeen Al Ali and Haifaa Al Mansour presented the awards for the Emirates Competition. Bouzid, from Tunisia, is one of the most highly-regarded auteurs in the Arab world. Abid is an award-winning Iraqi filmmaker, while Al Mansour is one of the first Saudi women directors. Salmeen Al Ali and Hassan Ahmed are prominent among Emirati filmmakers.
Shirin Neshat, President of the Shorts Competition Jury, and jurors Suheir Hammad and Ali Mostafa unveiled the awards for the Shorts competition. Neshat is an internationally-exhibited visual artist and filmmaker. Hammad is an award-winning Arab-American poet and actor, while Mostafa is one of the most successful Emirati feature filmmakers.
The awards for the Emirates Script Competion were presented by jurors Ibrahim Almulla, Mohamed Hassan and Salah Karameh el-Amiri. Each of the three have been important writers in the developing cultural scene of the UAE.