Posted on 20. Nov, 2009 in News
Elements have just finished work on the first ever episode of the Chevrolet  Supercars ME Championship which is due to be shown on various sports channels around the region.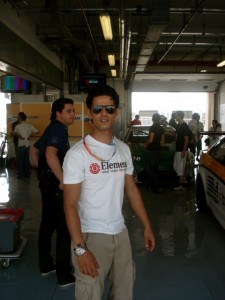 The Chevrolet Supercars ME Championship is a product of the unique collaboration and partnership between General Motors & Bahrain International Circuit & is a fantastic series that promotes motorsport in the Middle East to a level never seen before in the region.
Led by Managing Partner, Chaker Ben Yahmed, the team were in Abu Dhabi at the inaugural Abu Dhabi F1 Race at Yas Marina Circuit. The Supercars were there  in support of the F1 race and will be travelling around the region.
The segments for the intro and supplementary content for the racing programme were filmed in P2 HD and utilised a tapeless workflow.
"It was quite challenging filming on cards with a programme such as this," said Chaker on the plane back to Bahrain, "You have to be quite fast with the footage as we have a quick turnaround when we get back – tapeless helps us achieves this but also brings with it some difficulties as it's a relatively new technology."
Watch out for the first episode of the Chevrolet Supercars ME Championship on your TV screens in the weeks to come.