Posted on 25. May, 2010 in News
Elements have just completed Round 7 of the Chevrolet Supercars Middle East Championship which brings the 2009/2010 Season to a close. The series took us across the Gulf from Bahrain to Abu Dhabi, Dubai & Riyadh.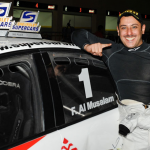 Round 7 – one of the most action packed races of the season, Fahad Al Musalem sped to victory in the very final race on this year's calendar, claiming his second consecutive Chevrolet Supercars ME Championship.
Sharif Al Mahdy, Chevrolet Supercars Championship organiser said "The Chevrolet Supercars ME Championship has established itself as one of the most competitive series to be found in the Middle East and features some of the best drivers to be found in the GCC…This year has been fantastic and I am sure next year will be even better!"
Elements would like to congratulate all the drivers and organisers of the series and looks forward to working with them again soon.
Chevrolet Supercars ME Championship can be seen on BTV Sport & Motors TV UK.